CEL-SCI recently presented its Phase 3 data at ESMO 2022, which revealed that Neoadjuvant Multikine achieved groundbreaking tumor response and extended overall survival in locally advanced head and neck cancer patients.
On September 10, 2022, Dr. Philip Lavin, a biostatistician with 80 FDA approvals/clearances, and Dr. József Tímár, Professor and Director of the Central Pathology Laboratory at Semmelweis University presented poster presentations at the European Society for Medical Oncology (ESMO) annual Congress in Paris, France.
The data presented came from the Company's landmark Phase 3 study, which is the largest clinical trial ever conducted for patients with newly diagnosed locally advanced squamous cell carcinoma of the head and neck.
About ESMO (European Society for Medical Oncology) 2022 Congress
ESMO congresses are focused on interdisciplinary, disease- or therapeutics-focused latest research results and state-of-the-art education.
More than 20 tracks cover all tumor types, therapeutic innovations, translational research, patient advocacy, and public policy. Opportunities to practice changing data and high-quality education with unrivalled networking opportunities alongside medical/clinical oncologists, basic translational researchers, oncology nurses, all other oncology professionals, patient advocates, journalists, healthcare industry representatives, policy decision-makers, and regulators.
ESMO Congress 2022 was held from September 9th – September 13th in Paris, France with key opinion leaders, asking questions and debating on burning topics in the field of medical oncology. Attendees had the chance to learn firsthand, about practice challenges and controversies, brainstorm with peers and explore further opportunities to advance their careers.
CEL-SCI Multikine ESMO 2022 Poster Presentations
Early response to Neoadjuvant Leukocyte Interleukin Injection (LI) immunotherapy extends overall survival (OS) in locally advanced primary squamous cell carcinoma (SCC) of the head & neck (HN): the IT-MATTERS Study (Clinicaltrials.gov NCT01265849)
The first presentation by Dr. Philip Lavin highlighted the early response of Multikine in study patients.
Dr. Lavin is a well-known biostatistician with extensive experience working on clinical trials for product registrations, reimbursements, and public health progress. He has worked as the Lead Biostatistician on 80 FDA approvals, including 43 PMAs, 23 NDAs, 8 510Ks, 4 BLAs, and 2 de novos with additional pending.
Dr. Lavin's work has led to an increase of more > than $25B in valuations. Additionally, he provided advice to the FDA from 1983-2015 as a Special Government Employee on matters such as product approvals and public policy.
He shared commentary on the presentation noting the groundbreaking responses.
"The IT-MATTERS study is groundbreaking by having achieved 45 RECIST documented neoadjuvant responses including 5 complete responses confirmed at surgery by pathology. All responses were limited to the Multikine treatment groups, which is a 1 in 100 billion chance event. Response mattered; the overall survival was >3x longer for responders vs non-responders."
Summary of findings presented by Dr. Philip Lavin:
Early tumor response (early response) to neoadjuvant Multikine-Treatment is noted before surgery (occurring at median 5 weeks post-randomization) adding credibility to the isolated impact of early treatment
Early response provides a positive signal to both patients and care providers (early in the treatment course)
Early response was noted only in the Multikine* (Leukocyte Interleukin Injection) treatment groups and not in the control group
The early response occurs in both the Lower Risk and Higher Risk groups for recurrence (Risk as defined per NCCN Guidelines)
Early response is prognostic and predictive for overall survival in:
The overall population; and
The Lower Risk population
The benefit was also seen in Multikine-treated Lower Risk non-responders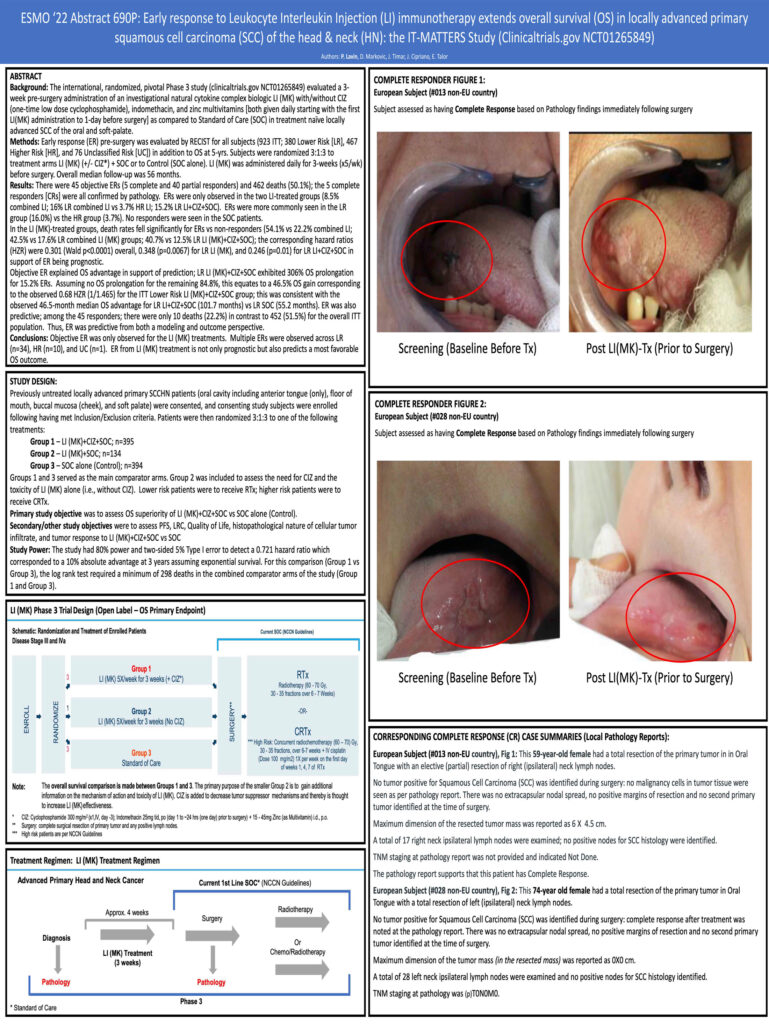 View PDF Here: ESMO 2022 Poster on Early Responders to Multikine
Histopathology (HP) biomarkers confirm Leukocyte Interleukin Injection (LI) treatment (Tx) outcome in naïve locally advanced primary head & neck squamous cell carcinoma (SCCHN) the IT-MATTERS Study (Clinicaltrials.gov NCT01265849)
The second presentation by Dr.József Tímár outlined the histopathology biomarkers and confirmed the efficacy of Multikine across various endpoints.
The renowned and highly regarded pathologist is József Tímár MD, Ph.D., DSc. He is a professor at Semmelweis University in Budapest, Hungary, where he served as the director of the Central Pathology Laboratory for the IT-MATTERS study.
Dr. Tímár has critical acclaim with 174 peer-reviewed published studies along with being a founding editor, editor in chief, or member of the editorial board for four different highly respected oncology journals. Dr. Tímár excels in cancer research and teaching, for which he has received over a dozen honors and awards.
Regarding the presentation at ESMO, Dr. Tímár shared the following.
"Biomarker analysis indicated that low expression of tumor cell PDL1, high density of most of the immune cell types (CD4, CD8, T cells, B cells, macrophages), high CD4/CD8 and low CD8/FOXP3 ratios as well as high density of CTLA4 and CD25 positive cells, were all predictive of Multikine efficacy in the Multikine treated population."
Summary of findings presented by Dr. József Tímár:
Pre-defined markers, ratios, and combinations derived from Multikine-treated tumor samples at surgery contribute to Multikine efficacy for all three efficacy endpoints (OS), progression-free survival (PFS), and local regional control (LRC)
A broad representation of markers, ratios, and combinations overall and for Lower Risk (LR) for the OS, PFS, and LRC efficacy study endpoints
There were 61 (21.9%) favorable overall and 54 (19.4%) favorable Lower Risk treatment group outcomes (much beyond 2.5% chance) and only a total of five instances (1.9%) [all High Risk] having unfavorable treatment group outcome (within the realm of chance)
These biomarkers were prognostic for the superior efficacy of the post-surgery adjuvant radiotherapy as compared to adjuvant chemoradiotherapy
The results support the Lower Risk treatment advantage (0.68 HR, Wald p<0.05) significantly favoring Multikine+CIZ+ SOC vs SOC alone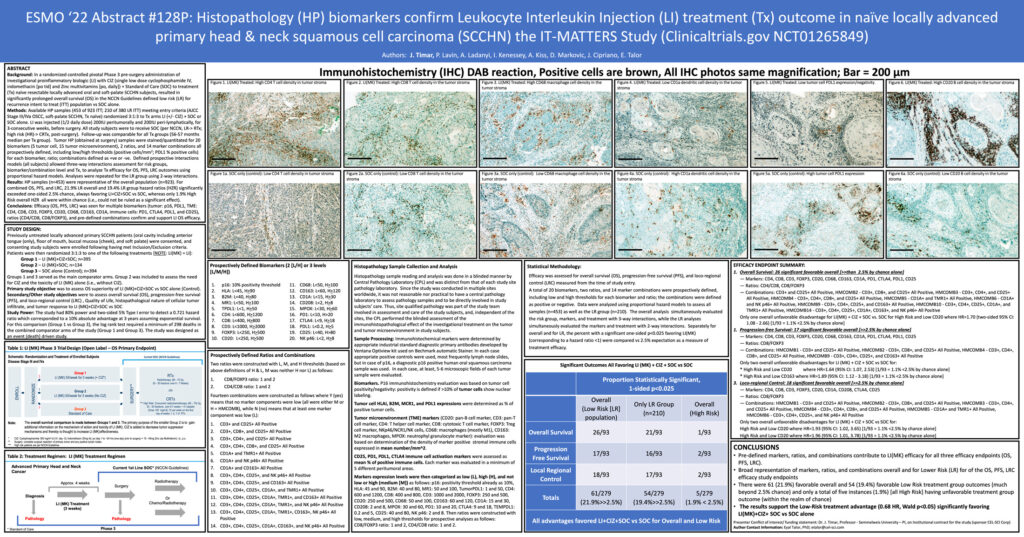 View PDF Here: ESMO 2022 Poster on the Histopathology Biomarkers for Multikine
About Dr. Philip Lavin
Dr. Philip Lavin is an expert in clinical trials, regulatory affairs, and product development planning. He has been working with world-class investigators and sponsors since 1974.
In the 1980s, Dr. Lavin started Boston Biostatistics (now part of ICON plc) and the Boston Biostatistics Research Foundation (BBRF), while working as a Harvard School of Public Health biostatistician at Boston University. BBRV is a 501(c)(3) nonprofit research organization that focuses on clinical research design, analysis, and reporting in public health.
In 2012, he founded Lavin Consulting LLC to support commercial ventures in the development of drugs, devices, diagnostics, and biologics.
To date, Dr. Lavin has either written or co-written 180 peer-reviewed articles and is globally renowned for his work in biomarker analysis, detection of trends and shifts using longitudinal models, standardization of efficacy and safety measures for oncology studies, non-inferiority design innovation, devising composite endpoints to assess multiple aspects of efficacy, as well as extending labeling claims through a closed testing procedure.
Dr. Lavin is the only individual to have the distinct honor of being named a Fellow of both the American Statistical Association (ASA) and Regulatory Professional Society (RAPS).
His clinical and statistical experience has also led to developing biomarkers (CA-125 and PSA), which help assess cancer studies more effectively, as well as recognizing the importance of performance status and weight loss for GI planning studies.
Additionally, these can be used to improve the assessment of new cancer treatments by determining tumor dimensions , efficiently employing cardioplegia during heart surgery, optimizing kidney transplants through tissue type matching, and more.
Dr. Lavin has won awards for his work in infertility and periodontal disease and brings board experiences across many disease settings.
For more than four decades, Phil's work has helped dozens of IDEs and INDs, representing clients all the while. To date, this has resulted in 80 FDA product approvals/clearances – including Lipitor. What's more, he is Senior Biostatistician for over 40 PMA approvals; a world-renowned expert in clinical product development.
So far, Phil has helped increase the value of companies by $30B following regulatory approval.
He co-founded Melior Capital Management with Mickael Marsali 10 years ago to help identify investee candidates together.
About Dr. József Tímár
Dr. József Tímár is a professor of pathology and the second head of the Department of Pathology at Semmelweis University in Budapest, Hungary. He is a board-certified pathologist with expertise in molecular genetics diagnosis.
He obtained a Ph.D. from Semmelweis University, under Professor K. Lapis, on the function of cell-surface glycoconjugates in tumor biology, and completed his postdoctoral training at Chester Beatty Laboratory, Institute of Cancer Research, London, under Professor R. Weiss, at Université Paris (formerly Collège de France) under Professor L. Robert and at Wayne State University in Detroit under KV Honn.
Dr. Tímár received his Doctor of Sciences degree from the Hungarian Academy of Sciences on the role of tumor cell-extracellular matrix interactions in tumor progression. He is also the founder of the Tumor Biology Department of the National Lung Institute, Budapest, and chairman of the Tumor Progression Research Group of the Hungarian Academy of Sciences.
Dr. Tímár's entire professional life has been spent studying cancer metastasis and he has published 200+ papers on the topic. He also is a part of the editorial board for Clinical & Experimental Metastasis, Cancer and Metastasis Reviews, as well being the founder and co-Editor-in-Chief of Pathology & Oncology Research.
Dr. Tímár's research revealed that human melanoma metastasis is enhanced by cell surface heparan suphates, which have previously been linked to tumor progression and drug resistance. Heparin and its low molecular weight derivatives have specific anti-migratory and anti-metastatic effects in various mouse and human metastasis models, according to his team.
The activity was found to be connected to tiny sulfated oligosaccharide derivatives. Proteoglycans are specialized carbs that he revealed have specific roles in the metastatic progression of human cancers, especially melanoma. Furthermore, the CD44v3 variant, which contains heparan sulfate and is the only one known to migrate, has been linked with human melanoma's migratory potential. In clinical samples, CD44v3 expression was associated with a poor prognosis for human melanoma.
He was also part of a research effort that involved using platelet 12-LOX to generate cancer metastasis in immunodeficient mice. As part of the stemness program, his team was involved in the development of the idea of platelet-mimicry disease, which utilized illegal expression of αIIb integrin chain and platelet 12-LOX enzyme in human melanoma. He was additionally involved with investigations on how blood platelets help protect against various types of human cancer.
Dr. Tímár was one of the first researchers to study alternative methods of cancer vascularization alongside neoangiogenesis, which have different functions in various types of organ metastasis (such as brain, liver, or lung).
His recent studies have systematically analyzed the individual role of cancer infiltrating immune cells in the progression of human melanoma and head and neck cancer. These studies have established that not only the presence and density but more importantly the functional activity of cytotoxic T cells and antigen-presenting cells have a prognostic role. This could be important in planning novel immunotherapies. His current studies are focusing on the metastatic progression of human melanoma, with a potential connection to IFN-resistance.
About CEL-SCI Corporation

CEL-SCI believes that the best chance at survival comes from boosting a patient's immune system while it is still working properly.
As a result, in the CEL-SCI Phase 3 trial, patients who had been newly diagnosed with advanced primary squamous cell carcinoma of the head and neck were treated with the study drug Multikine first, before undergoing surgery or radiation therapy or surgery plus concurrent radiotherapy and chemotherapy (the standard of care for these patients).
The approach taken by CEL-SCI is distinctive. Most other cancer immunotherapies are given only after standard treatments have been tried and/or failed. Multikine (Leukocyte Interleukin, Injection) was recently granted Orphan Drug designation from the FDA for neoadjuvant therapy use in squamous cell carcinoma patients of the head and neck and CEL-SCI has reason to believe that this Phase 3 study is currently the largest one of its kind in the world for treatment options regarding advanced primary head and neck cancer.
Multikine is designed to help the immune system detect and attack tumors while it is still relatively intact. CEL-SCI initiated the Phase 3 study in 2011 with 928 enrolled patients. The goal was to show an overall survival benefit, so at least 298 events (deaths) had to occur between the two main comparator groups.
The company is also developing LEAPS technology for rheumatoid arthritis. has operations near Vienna, Virginia and in/near Baltimore, Maryland.